You're on the safe side with us!
Since 2020, we additionally have provided our services for the detection of COVID-19 and new virus variants. As an officially recommended COVID-19 testing laboratory, we offer rapid and highly sensitive high-throughput PCR analysis for:
institutions
companies
sport clubs

Private individuals(via your Austrian insurance number in our partner pharmacies)

On the road for you throughout Tyrol!
Upon request, our mobile test teams will come directly to your location!
Covid PCR tests by Sinsoma
Officially recommended COVID testing facility by the BMfSGPK of Austria
Highly sensitive & reliable
We were able to complete the cooperative tests conducted by The Austrian Association for Quality Assurance and Standardization of Medical and Diagnostic Tests (ÖQUASTA) with a success rate of 100 % and reliably detected even slightly positive samples.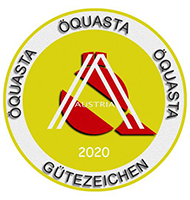 Always up to date! In addition to the detection of classical virus fragments via sensitive PCR tests, we also offer reliable and rapid detection of the most important virus variants.
As a preliminary examination within a few hours – or also for detailed clarification within a few days via sequencing.
Highest quality now also as a gargle test!
Tired of swab sampling? No problem - you can also gargle for us. 🙂